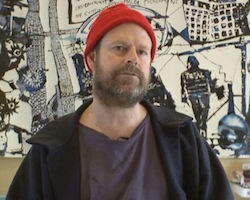 Locust Jones was born in Christchurch, 1963, and is now based in the Blue Mountains, Australia.
There is a captivating frenzy to Jones prints; cut energetically from large sheets of wood with power tools and chisels. Figures, helicopters, fences and animals jostle within the image, often enveloped in attention grabbing colours.
Locust has exhibited widely including New Zealand, India, Australia, Lebanon and the United States of America. Jones often represents political unrest in his work and in 1999 and 2004 was invited to Lebanon to produce artwork, which was subsequently exhibited as Amnesia Beyrouth in Brooklyn, New York in 2004.
In 2010 Locust was the winner of the Bold Horizon National Contemporary Art Award. Known for its controversial winners, Jones won this award with his entry of four handmade papier-mache orbs inspired by world events.
Locust has participated in numerous museum exhibitions including: Art Gallery of South Australia, Heidi Museum of Modern Art, Melbourne and Museum of Contemporary Art, Sydney. His work is held in major public collections including: Art Gallery of New South Wales; Art Gallery of South Australia; Artbank; Bathurst Regional Art Gallery; National Gallery of Victoria; Australian War Memorial; Ministry of Foreign Affairs and Trade, New Zealand; James Wallace Trust, Auckland, New Zealand; National Gallery of Australia; Mornington Peninsula Regional Gallery; Kunstwerk Museum; Collection of Peter W. and Alison Klein, Stuttgart, Germany and the Shepparton Art Museum.