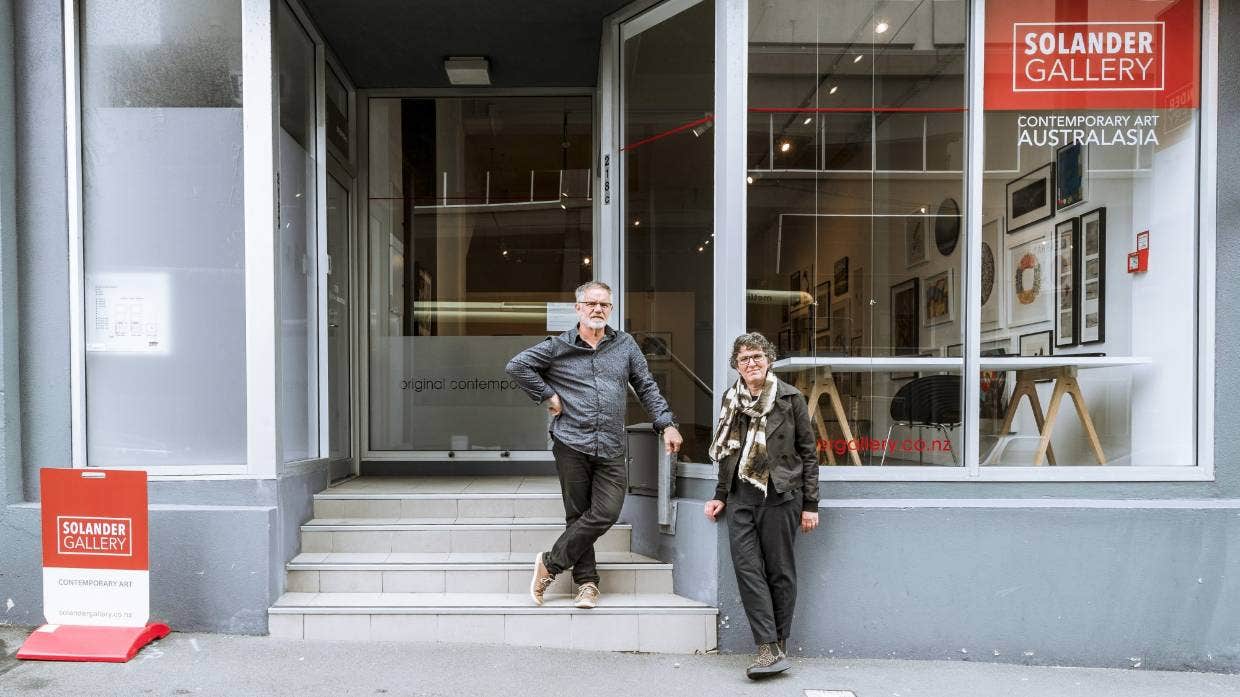 Solander Gallery is proud to exhibit New Zealand and International leading artists. Our focus is on collectable contemporary artists specializing in works on paper.
Our personal relationship with the artist gives us a valuable insight into their work, which we enjoy sharing with visitors to the gallery. Our stockroom boasts a collection of some of the most desirable works on paper in the region.
We invite visitors to browse through our folios of original prints and drawings on permanent display and would be delighted to arrange a private viewing should you request it.
Please call or email Paulette or Vincent to make an appointment or pop in, we are centrally located in the heart of Wellington.
About The Name
Solander Works on Paper takes its name from Daniel Solander (1733-1782) who was a Swedish botanist from the British Museum and accompanied Joseph Banks on Captain James Cooks first voyage to the South Pacific (1768). His name has become synonymous with a clam shell style collection box he designed that is still in use by Museums and Art Galleries around the world for the storage of precious collections and artworks.
Why Printmaking
Our passion for works on paper, particularly printmaking, has grown out of our understanding of the mediums such as etching, lithography and relief by being practicing printmaking artists ourselves. We are excited by the rich visual language of printmaking mediums. The mark of the chisel in lino or wood, the crispness of the etched line in a hard ground etching or the texture of a lithographic drawing on stone all bring a unique energy and authenticity to prints that cannot easily be reproduced in other visual art forms.
For many who appreciate prints, this is self evident, but for many others we meet in the gallery, they often do not appreciate the engagement of printmaking artists with contemporary art issues and the level of skill required to realise these ideas through the print medium. We see our role as a gallery to gently raise the public awareness of the work of printmaking artists as an important fine art medium.
OPENING  HOURS
We welcome visits by appointment – please email info@solandergallery.co.nz or leave a message on (04)920 0913 with your contact details.
Services
Framing: We are happy to advise and coordinate framing on your behalf or in consultation with you.  In conjunction with an established professional framer a fully archival service is available to protect and enhance your artwork.
Art Consultations: Solander provides an onsite art consultancy in Wellington and can assist with your art collection requirements in your home or office.
Weddings and corporate gifts: Weddings and corporate gifts are our specialty.  You are sure to find the perfect gift from our extensive collection for corporate, wedding or anniversary events. Our wedding registry service is a convenient way for your friends and family to contribute to the purchase of exciting works of art.
Gift Vouchers: Available in any denomination for friends and family to choose their own works.
Freight: Solander has experience in freighting work within New Zealand and Internationally. We would be happy to provide a freight quote on request.
Getting Here
The gallery is located at 218c Willis St, Wellington, which is in the central city, between Ghuznee and Vivian Streets.
A map and driving or walking directions are available from google maps.
Convenient parking is available in front of the gallery.
Mailing List
Please sign up using the link at the bottom of this page if you would like to be added to our email list for future exhibitions. If you like, you can also follow us on Twitter, or join our Facebook group