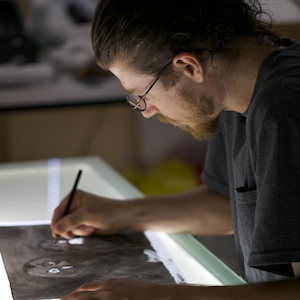 Born in Pittsburgh, Pennsylvania, John Pusateri moved to New Zealand in 2004 to undertake a Master of Fine Arts degree at the Elam School of Fine Arts, University of Auckland.
John's recent suite of works refers to museum specimens of owls and other bird species while bringing awareness to issues around biodiversity and conservation. His drawings and lithographs also tap into the artistic tradition of 'memento mori', a practice dating back to antiquity wherein artists include imagery designed to remind the viewer of their mortality and of the transience and fragility of human life.
John founded Auckland Print Studio, which specialises in stone lithography, producing limited edition, fine art and architectural prints.
He has exhibited in the USA, Ireland, Italy, Canada, Costa Rica, England, Japan, Taiwan and New Zealand.  His work has won awards and is represented in numerous private and public collections.