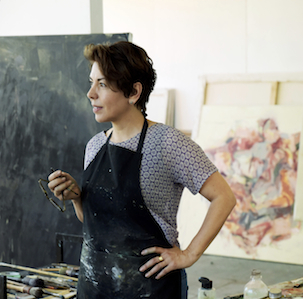 Jacqui Colley is a painter working within the intersection of human activity and the environment; she responds to the world around her, meditating on the invisible structures that shape our lives. Her inspiration comes from physical presence in place, observing and interpreting activity, colours, forms, sounds and dynamics. Reference points in her work are demarcated between information and the obscure – the creative process itself shaping her work; an intuitive expression of experimentation and response.
In 2016, Colley participated in 47 degrees South, a residency on Stewart Island, New Zealand, resulting in a touring show of regional public galleries in New Zealand. Followed by a solo exhibition in 2016: Bloom – paintings inspired by algae blooms in waterways and oceans, a development of themes on her Stewart Island residency.
Over the course of her career, Colley's work has been shown in New Zealand, Southern Germany, Austria, Switzerland, South Africa and Australia.
Jacqui Colley was born in Zambia and raised in Cape Town, South Africa where she studied graphic design and communications at the Cape Peninsula University of Technology before moving in 1996 to Wellington, New Zealand.