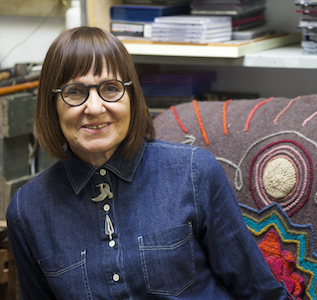 Denise Copland's work explores historical and contemporary notions of survival and questions the balances and tensions between nature, humanity and culture. The linkages, relationships and shifting boundaries between nature and humankind are considered.
"My Dunedin-based work is of landforms in my local vicinity. I have come back to them in my work again and again. These landmarks never cease to interest me on my walks around the city or the view from my windows – they continue to engage me as they change with the weather and light."
Denise completed a Diploma of Fine Arts with Honours in Printmaking, University of Canterbury from the School of Fine Arts, University of Canterbury, Christchurch, in 1977.  Denise has been awarded several national awards and includes a prestigious Antarctic Arts Fellowship in 2001-2002. Denise lectured at the School of Fine Arts (1982-4), University of Canterbury, and was a Senior Lecturer at the School of Art & Design, Christchurch Polytechnic Institute of Technology until the end of 2006. Denise has exhibited extensively in over 22 solo and 150 group exhibitions since 1977.