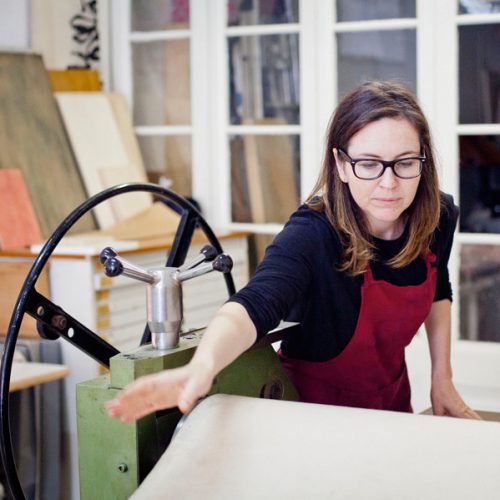 Danielle Creenaune is an Australian artist living in Barcelona. Danielle obtained her Undergraduate and Masters Degrees in Fine Arts from the College of Fine Arts, University of New South Wales, Sydney and has studied at the renowned Tamarind Institute for Lithography in New Mexico, USA. Danielle shows her work internationally and is held in major overseas collections.
"Our experience of landscape is spatial and the sensations we feel go beyond what is seen visually. The between spaces in a forest are as equally beguiling and beckoning as the natural forms which punctuate it. My work reflects hybrid landscapes which are both inherited and imagined. While the landscapes are real, there is a merging of present adopted European landscapes and those which long for the Australian landscape of my past. I am interested in what landscape holds for the individual in terms of memory, private connection and a sense of belonging.""
Danielle has been the recipient of multiple awards, including the 2018 Inkmasters awards, 2016 René Carcan International Printmaking Prize, 2016 Small Print Internaional awards, among others.