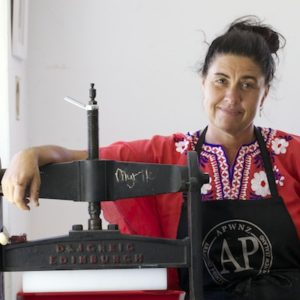 Since completing a Masters degree in Fine Art Media at the Slade School of Fine Arts in London, Alexis has continued to develop her professional practice as a contemporary New Zealand artist. Alongside her professional career Alexis has also fulfilled tutoring positions in both academic and community institutions.
As a practising artist her work involves defining a place for women's cultural identity and predominately has looked at the duality of artifacts in terms of personal adornment and material culture. Her studio practice is interdisciplinary, combining components of print, sewn feather canvases, weaving and installation works together to address Maori traditional whakapapa in a contemporary context.
Alexis has been the recipient of multiple awards, including the 2019 Gold winner of the Pride and Print Awards, 2018 finalist in the Molly Morpeth Canaday Awards, 2017 finalist in the National Contemporary Art Awards, among others.