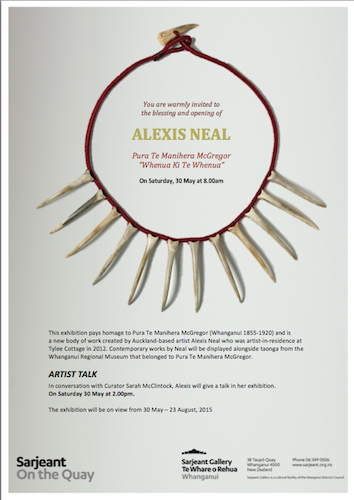 Alexis Neal: Pura Te Manihera McGregor "Whenua Ki Te Whenua"
Solander artist Alexis Neal has been working on a significant body of work over the last two years inspired by her Sarjeant Gallery, Tylee Cottage residency.
The exhibition opens on Saturday 30 May at 8am, Sarjeant Gallery, 38 Taupo Quay, Whanganui
We hope you can get along to suppoprt Alexis for the opening.
These new work by Alexis Neal are inspired by the story of prominent local woman Pura Te Manihera McGregor, (Maori Chieftainess, born Whanganui 1855 – 1920) whose remarkable taonga (treasures/artifacts) are housed at the Whanganui Regional Museum. The exhibition showcases new works alongside Taonga and engages with an important chapter of local history. This will include printmaking, whāriki (woven panels) and other mixed media works.