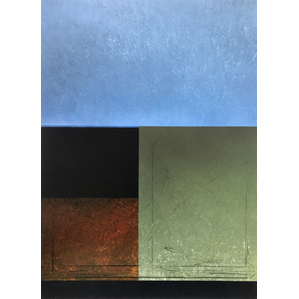 Opening Event Wednesday 5 September 5.30 – 7.00pm
Richard Adams was born in London in 1957. He is now an Auckland based artist exhibiting since 1982. He considers his painting practice abstract and works with mainly oil paints.
Adams' is also a well-regarded Jazz violinist, playing throughout New Zealand as the frontman of the Nairobi Trio. Music and his painting practice inform one another, both enabling him to take his work nationally and internationally. Places like Dubai have inspired him; the textures, aged surfaces and fine colours all work their way into his practice. The weathering of paint on boats has always intrigued Adams'; how their history is revealed through exposed scratches and rubbed surfaces, a process that is used in his own practice. Adams' describes himself as the guide, rather than the master of the brush, allowing the paintings to evolve.
It is in the last decade that Adams' has begun to make a mark as a painter, exhibiting in New Zealand and internationally.