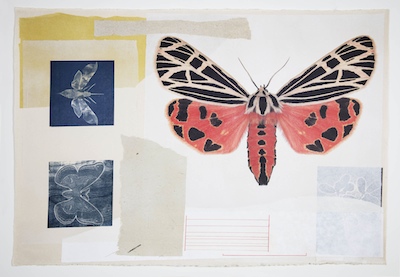 Places/Positions: Four Artists
Rick Allender
Nuala Gregory
Yolunda Hickman
Joseph Scheer
Please join the artists for the exhibition opening Wednesday 11 September 5.30pm – 7.00pm.
Places/Positions: Four Artists showcases the work of an international group of artists exploring new forms of collage in mixed media. Sharing a strong sense of colour, craft, and constructed image, the artists nonetheless adopt very different techniques and distinct aesthetic positions. Rick Allender references nautical imagery and the intricacy of Japanese art in a series of 'marcollages' (marquetry and collage) featuring inlaid designs in raw and processed wood. Nuala Gregory and Joseph Scheer make very different uses of Chinese handmade papers to create dynamic colour assemblages (Gregory) and detailed images of beautiful moths in the most delicate textures (Scheer). If their work contrasts abstraction with figures from nature, Yolunda Hickman combines the two. She lays down patterned planes of watercolour and gouache over which cut-outs of children's stencilled animals float suspended in a kind of frozen space. Together, these artists produce an exhibition of highly accomplished and intriguing works, in which there will be something to captivate and delight many different viewers.
A full exhibition catalogue will be available to view online from Monday 9 September.