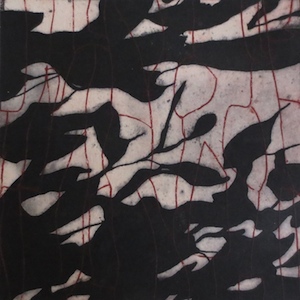 Born in St. Albans, UK in 1964, Mark Graver is an award winning artist printmaker, tutor and curator now based at Wharepuke in Kerikeri.  He established the Wharepuke Print Studio, New Zealand's only dedicated Acrylic Resist Etching workshop, in 2006 and, with partner Tania Booth, Art at Wharepuke Gallery in 2009 and is author of Non-Toxic Printmaking (2011, London, A&C Black).
His work is held in many international collections including the V&A Museum, London, The Ashmolean Museum, Oxford, Whangarei Art Museum, Whangarei, NZ, Jinling Museum of Art, China, Guandong Museum of Art, Guangzhou, China, Penang State Art Gallery, Malaysia ,National Museum Of Fine Art, Taiwan, Douro Museum of Printmaking, Portugal, Durban University – Arts for Humanity Collection, Literature and Arts Department, Harbin, China, CONARTE – Non Toxic Printmaking Museum, Monterrey, Mexico, Painting and Sculpture Museums Association, Istanbul Turkey and the James Wallace Trust, NZ.
Exhibition Statement: Taken from a quote by Horace, 'Pulvis et umbra sumus' (we are but dust and shadow) Umbra Sumus is an ongoing project containing photopolymer and acrylic resist etchings, video and sound works.
"The work is partly a response to the death, in January 2011, of my father and to the wider human condition. The use of shadows alludes to the movement of light, the passing of time and, ultimately, to mortality. Still images are used for the etchings while the video works allow for an actual temporal experience using the same or similar source material."
The more specific biographical elements contained within the works relate to personal experience of place and memory.  The prints 'Brackendene','Long Melford' and 'Brunswick' use drawings made as a five year old child, a collaboration with a younger self, whereas 'Last' and 'Garston' relate directly to the last place Mark saw my father alive and to his last resting place. 'Salix' and 'Yen Ben' are the trees planted to his memory in St. Albans and in Kerikeri.
'The Suffolk Parricide', 'Long Melford' and the 'Bull' works are in reference to old family tree information and stories from Mark's grandmother gathered in Suffolk in 2012. Constable Country and Flatford connect to the same grandmother as she used to take Mark to Deadham Vale and East Bergholt in Suffolk to visit the sites of John Constable's paintings and Gainsborough.
Other works relate to specific places such as the Wharepuke series, made from photographs of shadows on the Art at Wharepuke gallery building in Kerikeri, the Stone Store in Kerikeri, Ibis, a hotel interior in Auckland, Wall, Hadrian's Wall in Northern England and St. Albans landmarks Abbey and Ye Olde Fighting Cocks, one of many pubs claiming to be the oldest in England.
Mark Graver has also produces a video installation that accompanies the works on the wall. – Click on this link to   see video on Vimo