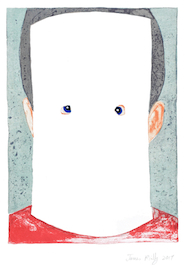 James Rielly, a British artist, born in 1956, regularly exhibits his works internationally and to great acclaim.
Rielly's works are subtle yet inherently dark. Slightly twisted psychology of the rites of passage is central to what Rielly's works meditate upon regularly. The hesitation between life's transitions depicted as we consider whether adolescences is genuinely innocent in light of how we behave as adults.
The folio suite of Rielly's lithographs, Who Loves the Sun, is full of delicate and wonderfully textured prints with thin transparent layers of built-up ink. Like his other works on paper, the lithographs have a unique blotted atmosphere and beautiful surface within which the images materialise and vibrate with the clever use of repetition.
Rielly completed Who Loves the Sun as part of his residency at Auckland Print Studio in early 2019. He has had various artist residencies in places such as The Fine Arts Work Center, Provincetown, USA 1984/85, Kunstlerhause Bethanien, Berlin 1988/89, and The Momart fellowship, Liverpool Tate gallery, 1995.
His works have been the subject of solo shows such as Sensible ways, Musee des Beaux-arts de Nates, France 1997, Centre d'art Nauchatel, Switzerland 1998, La Box, Bourges, France 2014. Beaux-Arts de Paris, Cabinet des Dessins Jean Bonna 2015. Plus numerous group shows, Sensation- Saatchi collection, Royal Academy, London 1997. Outlook, Athens 2003, curated by Christos M Joachimides. Donation Florence et Daniel Guerlain, Centre Pompidou, Paris 2014 and We lived our lives in the spiritual not the material world, 2016 and Stories for Mexican ghosts and children of all ages, 2018, Galeria Estereo. Mexico.
James Rielly currently lives and works in France, he is a Professeur at the Beaux-arts de Paris