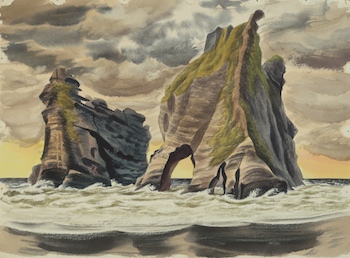 The watercolours in this exhibition, hidden away in Taylor's studio for several decades, make an admirable job of highlighting a neglected aspect of his oeuvre as well as giving further insight into the skills of this talented artist.
Mervyn Taylor is chiefly known for his splendid wood engravings of New Zealand flora and fauna and Māori life and legends. Less well known are his landscape watercolours and drawings of New Zealand. These are as equally finely-crafted and have similar qualities
of dynamism and design. The fluidity of watercolour is diametrically opposed to the exacting nature of wood engraving. But Taylor mastered the spontaneity of the medium and produced landscapes which are filled with light and colour. It is interesting to see that in many of these images his brush technique of short sharp strokes resembles the marks and lines made with engraving tools on a wood block.
Taylor had exhibited watercolours of Makara and Wellington subjects at the New Zealand Academy of Fine Arts in the 1940s. But the bulk of the watercolours in this exhibition are from the decades of the 1950s and 1960s.