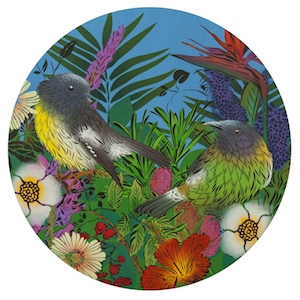 A solo exhibition of stencil and painting works by FLOX
Opening Event with FLOX Friday 23 September from 5.00 – 7.30pm
Working with spray paint and stencil, FLOX creates delicate, intricate images inspired by the natural world.
With a practice spanning over a decade there are consistent themes and elements of her work that make a FLOX piece so recognisable. The vibrant, confident colour; the scale combined with delicacy; intertwined with references to a childhood filled with nature's flora and fauna now recognised as both a vulnerable and precious taonga.
After residences in Taiwan in 2015 and a month in India during September, FLOX returns to her roots and her first solo show in Wellington. Inspired by the native birdlife, Homage Sweet Homage also salutes the work of Wellington's local Zealandia conservation eco-sanctuary with pieces that acknowledge the birdlife within: sweet artworks featuring feathered favourites such as the Tui, Kereru, Miromiro and Korimako. Bringing a sensitivity and celebration of Aotearoa's spectacular environment, these works will engage and enthrall.
FLOX painting the installation at Solander Here
Proudly sponsored by: