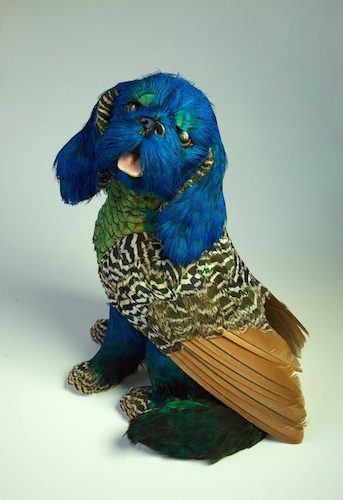 Emily Valentine is a contemporary mixed media artist living and working in both Australia and her native New Zealand.
She describes feathers as her paint. Over the last fifteen years Emily has developed her own technique and style using this material. The source of feathers is vital to the work. In 1999 she made Road Kill, a pair of shoes using feathers from a road kill Lorikeet. This piece was a turning point in her practice.
Emily's work acts as an expression of sympathy in regards to the bird's previous life. In this process of acknowledging the animal's previous life, a new one is also created. Crested Canines is the continuation of a larger body of work called The Dog Flu series and features bizarre creations such as the Bostikeet, Duckhund and King Charles Peacock.
Exhibition closes 24 November