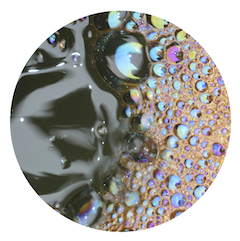 Christchurch born, emerging artist Donna-Marie  Patterson spends her time between Kaimata on the West Coast and Christchurch.
As a 5th generation New Zealander Patterson's relationship with the landscape and environment is a deeply personal one.  Her family's 100-acre Kaimata property, providing inspiration (and source material) for her art practice and a reminder of the environmental, agricultural and economic concerns relating to water.  Located beside a hydro-power station, and previously gold mined and farmed, the glacial-formed land is now naturally regenerating into lush rainforest, providing a sanctuary for wildlife and symbolically conveying 'water is the essence of all ecology'.
More recently Patterson has focused her research to the study of the natural oil-seepages and the natural springs in the Lake Brunner region, which includes her family's land.   Reflected in a suite of photographs and drawings representing a distillation of both memory and place and the constant flux of nature. Graduating in 2019 with a MFA from the University of Canterbury, Ilam School of Fine Arts, Patterson has been the recipient of multiple art awards.
Exhibition continues until 3 August.