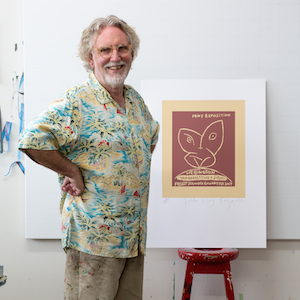 'Poster Boy' to launch Dick Frizzell Retrospective Exhibition
Dick will launch 'Poster Boy' a new limited edition screenprint created for this Solander exhibition inspired by Picasso's 1950's posters.
$50 from the sale of of each of the numbered edition of 'Poster Boy' will go to Wellington's Pablos Art Studios.
Pablos Art Studios is a Wellington community organisation that provides people who have experience of mental ill health with free materials, tuition and support to make art. www.pablosart.org.nz
Dick has continued his interest in printmaking throughout his artistic career and is tuned to the egalitarian nature of print works along with an appreciation for the power of the graphic.
"I grew up in the 50's…more or less in step with 20th century Modernism and it was just taken for granted that painters made prints: silkscreens, lithographs, etchings, lino-cuts, whatever. Maybe I assumed it more than most, but the practice of reproducing an image in multiple forms just came naturally to me. Something about the business of graphics I think."
Picasso during the 1950's and 60's produced posters to promote his own exhibitions and these posters became collector's pieces in their own right. Dick's new work takes Picasso's 1955 poster and gives it a Wellington Tiki spin.
"Solander invited me to create a special image to celebrate this show so I've gone right back to the beginning, back to the mid 20th century where artists would print a poster to advertise their show of prints. The Picasso-esque, 'Poster Boy' is the result of another collaboration with the Artrite workshop."
"Poster Boy" Limited Edition of 100 – reserve yours now.