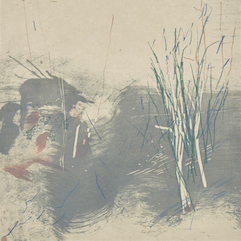 'Danielle Creenaune's work occupies a liminal zone between abstraction and representation, where the experience of a place, rather than a literal rendition of landscape feeds her creative practice. Wind-swept and gestural, the artist distills the essence of her subject through reductive marks made confidently on lithographic plates, which through the alchemy of printmaking are released onto paper.' – Marguerite Brown MA ArtCur, General Manager Print Council of Australia Inc.
Having lived abroad for the last 18 years, Australian born artist, Danielle Creenaune, recently relocated from Barcelona back to Australia. Her central motivation 'is the intrinsic dialogue between landscape and people, how landscape is perceived through our library of pre-lived experiences and the ways in which this is reflected through the visual language of gesture.'
Her work has received numerous awards internationally including the René Carcan International Printmaking Award 2016 1st Mention in Belgium, and her lithographs were selected to represent Australia in the International Print Triennial Krakow 2015. Creenaune's work is held in public collections including the National Gallery of Australia. Her book 'When the Sea Wakes Inside You' is currently selected in the 250th Royal Academy Summer Exhibition London until August 19, 2018.
Danielle Creenaune completed a Bachelor and a Master of Art at the University of New South Wales, Sydney in 1997.
Exhibition continues until 3 August.