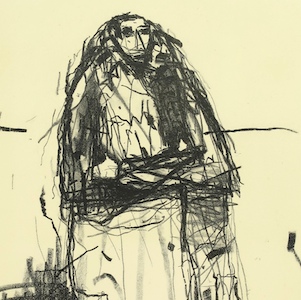 Melbourne based artist Chris Ingham is exhibiting a suite of new etchings, lithographs and bronzes that explore the theme of the individual in the wider community. Notions of private and public, the known and the anonymous are reflected in Chris's urban landscapes.
Currently, Chris works as a printmaking workshop technician at the Australian Print Workshop, in addition to making his own art and exhibiting widely in Australia and Europe.
In 2010 Chris was awarded a traineeship at the Australian Print Workshop as a custom printer in etching and lithography, at which time he also travelled to Cork, Ireland  for a 10 week residency at Cork Printmakers, concentrating on lithography and etching. In early 2013 Chris completed a 1-month residency at La Ceiba Grafica in Mexico making lithographs on Mexican marble. In early 2014 Chris traveled around central Europe visiting art galleries and print workshops and also putting together a series of impressions and drawings which are currently being translated into prints.