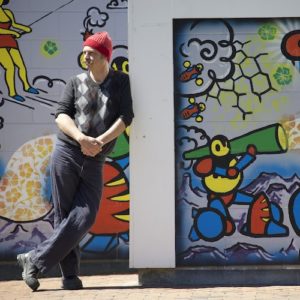 Sam Broad, printmaker, painter and automatist has been fascinated with most things mechanical since an early age. An overwhelming theme in his recent works is the impact and interaction of technology on people.
His automata (interactive kinetic artworks that invite viewers to touch and control), paintings and prints are in collections around New Zealand and the globe.
Recent themes in Broad's work include 1950s pulp sci-fi, Maoriana and New Zealand postage stamps. Broad juxtaposes these motifs in a style which the artist describes as, "future folk vs. colonial tea party".