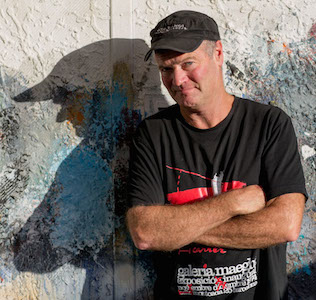 Richard Adams was born in London in 1957 and is now an Auckland-based artist, exhibiting since 1982. Richard regards himself as an abstract painter but draws inspiration from the colours, textures, shapes and surfaces of nature.
Richard is also a well-regarded jazz musician, playing throughout New Zealand and internationally as the frontman of the Nairobi Trio. His music revolves around improvisation and the building of musical textures, equally reflected in his approach to painting.
"I like my work to have a certain amount of spontaneity to it. This helps me in feeling that I am the guide of the brush rather than the master."
Richard's music career has enabled him to travel extensively which consequently informs his inspiration for painting. Weathered paint on a boat in Dubai or an ancient wall in Spain may emerge in his paintings. These can be simultaneously landscape and surface as his manipulation of colour and light creates illusionistic depth.