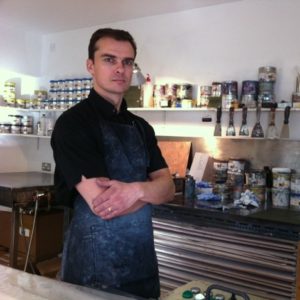 Kelvin Mann was born in 1972 in Dunedin, New Zealand. He was educated at the Otago School of Fine Art, NZ. He was later employed as an animation artist by Vidmark Television, NZ from 1994-1996. In 1997 he moved to Dublin to become a member of the Graphic Studio Dublin.
Kelvin enjoys mechanics and the exposed working of the machine. Machines that look like something from the industrial revolution, but poorly designed. It is as if they might have once existed, but didn't stand the test of time. With the benefit of hindsight he believes they were a ridiculous idea. These machines fascinate Kelvin; not so much the workings of them but the idea that they work at all.
Kelvin has worked as a printmaker at Stoney Road Press in Dublin since 2002 and shows in Ireland, the United Kingdom, New Zealand and Australia.