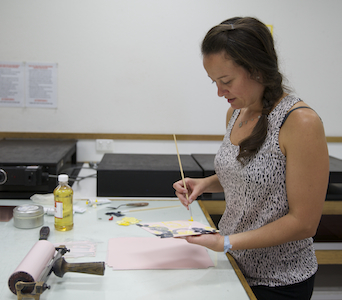 Annie Smits-Sandano was born in Brazil and has lived between New Zealand and her home country for the past ten years. She undertook her art training firstly in the USA, where she attended the prestigious Rhode Island School of Design, where she strengthened her skills in illustration, design and composition. Following this, Annie spent seven months in Florence, Italy, where she studied Italian Renaissance art history, textile design, painting, and contemporary spatial design.
Upon her return to New Zealand, Annie attended Elam School of Fine Arts at The University of Auckland, where she spent her undergraduate years developing a solid conceptual foundation whilst consolidating technical printmaking skills with a strong focus on wood block prints.
After graduating, Annie has established herself as a practicing contemporary limited edition printmaker and fine artist and works from Auckland and her studio in the Coromandel. She has had a number of successful solo exhibitions and has participated in numerous group exhibitions throughout New Zealand and the USA. The artist's work features in collections in New Zealand and internationally.